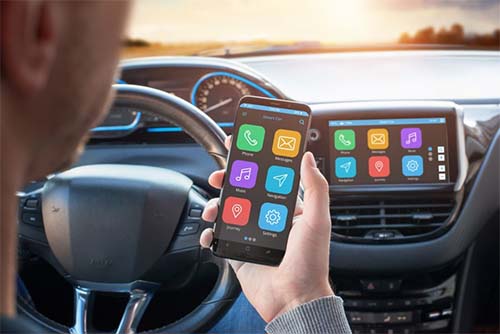 VicOne is off to a great start in 2023 as the automotive cybersecurity leader debuted at this year's edition of CES (formerly Consumer Electronics Show), billed as "the most influential tech event in the world." CES 2023 ran from Jan. 5 to 8 at the Las Vegas Convention Center in Nevada and had an overwhelming attendance of over 115,000.
A future-proof smart cockpit solution demo
At the Mobility in Harmony (MIH) booth, VicOne's experts showcased its secure vehicle smart cockpit solution. This innovation addresses the changing consumer behaviors that have steadily transformed connected vehicles into extensions of consumers' digital lifestyles. More vehicle owners are now using mobile phones for car functions such as keyless entry, navigation, e-commerce, EV charging, parking, social media, and entertainment.
But the increasing preference for mobile phones over in-vehicle infotainment (IVI) systems in controlling connected cars also expands the attack surface of vehicles. For example, car owners' passwords and other sensitive information could be leaked through a compromised mobile app from a car manufacturer (OEM). Hacked digital car keys could also grant malicious actors unauthorized access to vehicles.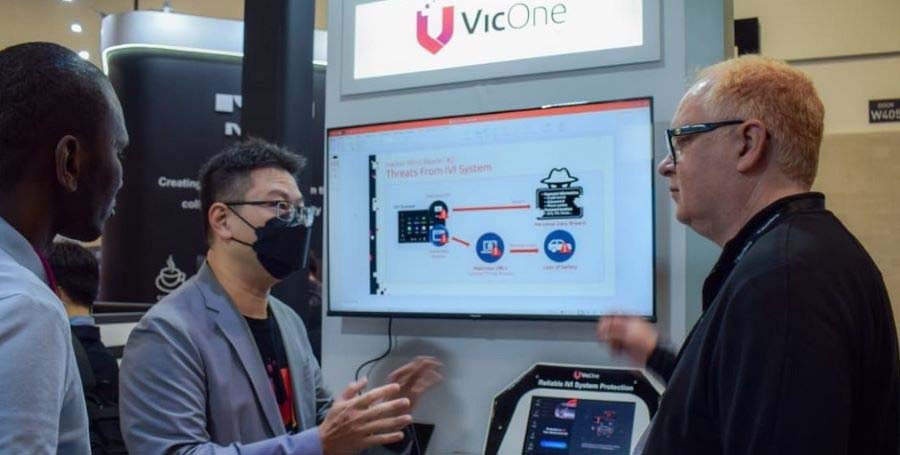 Figure 1. Peter Yang (center), senior product manager at VicOne, demonstrating the smart cockpit cybersecurity solution at CES 2023
With VicOne's future-proof smart cockpit cybersecurity solution, OEMs can mitigate potential risks by providing exceptional multilayered cybersecurity protection from the system level (e.g., electronic control units) to the application level (e.g., in-vehicle infotainment apps). Our solutions are backed by continuous threat intelligence, keeping the smart cockpit ahead of imminent threats.
A chat with strategic partners in automotive cybersecurity
Halfway through CES 2023, VicOne had a fireside talk with key leaders in the e-mobility industry. Max Cheng, CEO of VicOne, was joined by Jack Cheng, CEO of MIH, and Shinpei Kato, founder and CTO of Tier IV. They shared ideas on how OEMs and Tier 1 suppliers could better prepare for the future of e-mobility.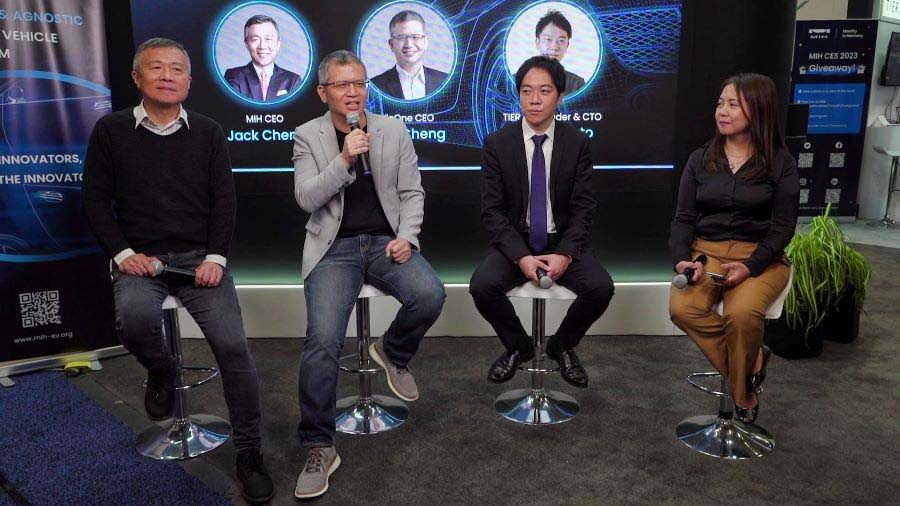 Figure 2. Max Cheng (second from left), CEO of VicOne, sharing his insights on the future of e-mobility during a fireside talk at CES 2023, with (from left) Jack Cheng, CEO of MIH; Shinpei Kato, founder and CTO of Tier IV; and Myla Pilao, marketing director of VicOne, who moderated the talk
"At VicOne, we would like to remind all the automobile industry players and its leadership to put cybersecurity on the e-mobility agenda," Max answered when asked for his thoughts on the future of e-mobility. "Right now, the majority is focused on how to comply with the regulation requirement by WP.29. But I don't think that is enough."
Max also mentioned that VicOne had been collaborating with various industry partners, such as MIH, so that VicOne's automotive cybersecurity solutions could become part of a bigger and more holistic platform.
VicOne's collaboration with MIH has resulted in the Secured RDS (Remote Diagnostic Service), which VicOne recently launched on the MIH Open EV Platform as the industry's first-of-its-kind in-vehicle software safety remote diagnosis service. This service provides car OEMs and system suppliers with a more robust cybersecurity defense by allowing them to remotely detect abnormalities in electric vehicles in real time.
VicOne's first foray into CES is proof that it is ready to roll out its comprehensive solutions that protect the connected car ecosystem and meet its ever-evolving needs.
Leveraging over 30 years of cybersecurity experience from Trend Micro and the expertise of more than 10,000 independent researchers from Zero Day Initiative, VicOne's automotive cybersecurity solutions use the latest technologies like behavior monitoring and detection and response to help automotive stakeholders secure connected cars and comply with regulatory requirements.
Learn more about our solutions by visiting our homepage.