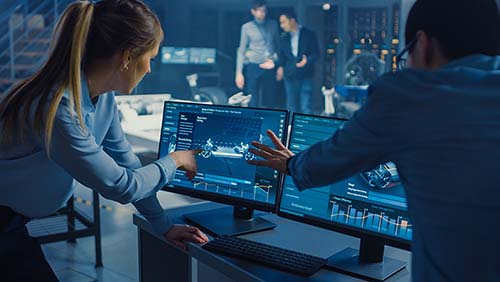 In previous entries, I've already covered how the automotive industry is at a crucial period of progress. More developments in the automotive industry confirm this. Talks of AI advancements being applied to vehicles and the availability of more third-party apps on in-vehicle infotainment (IVI) systems are just the tip of the iceberg, with more developments yet to be unveiled.
While they make for an exciting time for the industry, such developments pose new challenges for automotive manufacturers (OEMs) and suppliers. As it stands, the vehicle exists in an ecosystem that continues to become more complex and expansive, which can introduce new risks and leave security gaps. Automotive cybersecurity must cover more bases and surpass developments with its own innovations.
VicOne and Block Harbor
In April, we announced a significant investment in our fellow automotive cybersecurity innovator Block Harbor. This signifies a combination of VicOne's decades of cybersecurity research and automotive threat intelligence with Block Harbor's established cybersecurity engineering expertise for the automotive industry.
Block Harbor aligns with VicOne's goal of securing the future of mobility. Both companies see cybersecurity as a critical component of the automotive industry's future, which shows in our commitment to pioneering future-ready solutions.
In all aspects, this investment is strategic. It is an opportunity to combine Block Harbor's expertise in the concept, development, and validation phases of automotive cybersecurity with VicOne's own proficiency in the production and operation phases.
Uniting VicOne and Block Harbor's complementary strengths opens new avenues for creating an even more comprehensive automotive cybersecurity solution that addresses security risks all through the concept, development, production, and operation phases of a vehicle. Security from the vehicle's concept phase to its operation phase also helps OEMs meet current standards and regulations, specifically ISO/SAE 21434.
End-to-End Cybersecurity Visibility
Unlike with other cybersecurity vendors' point and siloed solutions, the VicOne and Block Harbor partnership aims to provide a comprehensive, end-to-end solution to enhance OEMs' security posture across a vehicle's whole life cycle. For example, the information generated at engineering's threat analysis and risk assessment (TARA) process can be correlated with the telemetry data operation of the vehicle security operations center (VSOC) to provide huge value in VSOC operation. The vulnerability management process of the product security incident response team (PSIRT) can gain substantial benefits from the intelligent feedback from the TARA process. It can enhance engineering's capability to build more secure vehicles.
The integration of VicOne's xNexus or xZETA and Block Harbor's Vehicle Security Engineering Cloud (VSEC) not only provides end-to-end cybersecurity visibility, but also enhances OEMs' cybersecurity posture and provides actionable intelligence for cybersecurity teams to reduce response time and increase effectivity in handling new cybersecurity incidents.
This is a momentous partnership and is in line with both companies' desire to better secure mobility. Collaborations such as this are meant to nurture innovation that can keep up with the continuing evolution of the modern vehicle.