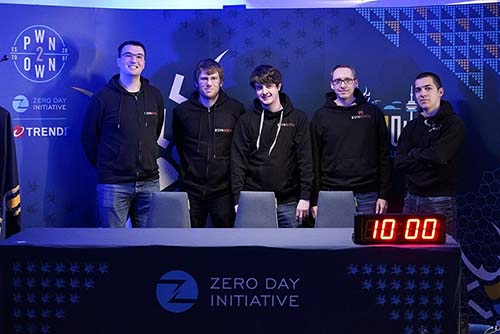 DALLAS, Texas, and TAIPEI, Taiwan, April 3, 2023 – VicOne, an automotive cybersecurity solutions provider, announced today that VicOne security researchers were part of the observation team at the 2023 Pwn2Own hacking competition, which is run by Trend Micro's Zero Day Initiative. This year's Zero Day vulnerability exploits against the Tesla Model 3 were uncovered by the Synacktiv team from France, who were also successful at the Pwn2Own 2022 event. The Synacktiv team were the ultimate championship winners of the 2023 Pwn2Own competition, receiving a total of $530,000 in prize money, as well as a Tesla Model 3 electric vehicle.
In addition to finding and exploiting Tesla vulnerabilities, the complex new scenarios identified by participants at Pwn2Own competitions provide invaluable insights that help automotive OEMs and Tier 1 suppliers anticipate and adequately prepare for similar attacks in the real-world.
"VicOne sits at the forefront on discovering future attacks on connected vehicles," said Ziv Chang, VP of Automotive CyberThreat Research Lab at VicOne. "With the expertise of the world's best security researchers and the generosity of companies like Tesla who participate to make their cars even more safe and secure, everyone involved in this essential Pwn2Own competition is committed to the safety and security of consumers of connected products and cars."
Pwn2Own is a biannual hacking conference where researchers compete to expose weaknesses and vulnerabilities in connected products. Researchers demonstrate their skills to win prizes that include the very devices they successfully hacked. Participating brands benefit from the disclosure of vulnerabilities and the opportunity to address weaknesses in their products.
To make the connected vehicle ecosystem more secure, Zero Day Initiative is expanding the Pwn2Own competition with the launch of Pwn2Own Automotive in 2024, which VicOne is an integral part of. The inaugural event, dedicated specifically to automotive security vulnerabilities, will take place at the next Automotive World Conference in Tokyo, January 24-26.
The new Pwn2Own Automotive competition will:
Further automotive research by encouraging researchers to contribute and be financially rewarded for reports covering various products and platforms.
Illuminate the attack surface by highlighting critical technologies that need to be evaluated.
Incentivize the discovery of challenging and complex threats by offering increased bounties for multi-system attacks.
For more detailed information on the winners and technical aspects of the Tesla exploits discovered by security researchers during the 2023 Pwn2Own in Vancouver, read the VicOne blog here.
About VicOne
With a vision to secure the vehicles of tomorrow, VicOne delivers a broad portfolio of cybersecurity software and services for the automotive industry. Purpose-built to address the rigorous needs of automotive manufacturers, VicOne solutions are designed to secure and scale with the specialized demands of the modern vehicle. As a Trend Micro subsidiary, VicOne is powered by a solid foundation in cybersecurity drawn from Trend Micro's 30+ years in the industry, delivering unparalleled automotive protection and deep security insights that enable our customers to build secure as well as smart vehicles. For more information, visit https://vicone.com/.