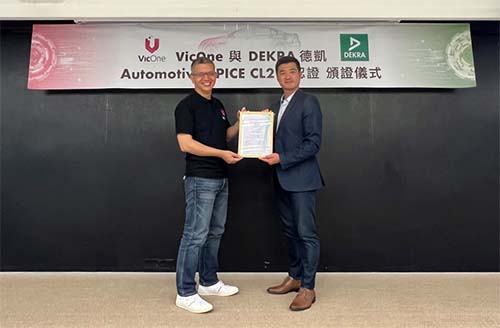 DALLAS, Texas, and TAIPEI, Taiwan, April 12, 2023 – VicOne, an automotive cybersecurity solutions provider, announced today it has been awarded the ASPICE CL2 certificate from DEKRA in recognition for its outstanding automotive embedded software development and quality control. Created to assess the performance of the development processes of OEM suppliers in the automotive industry, ASPICE (Automotive Software Process Improvement and Capability dEtermination) is tailored for the specific needs of international car manufacturers and the automotive ecosystem.
Automotive SPICE has become a globally recognized standard and valued certification for assessing high-level capabilities of software providers. Its model framework assesses the research and development (R&D) capabilities of software development teams in the automotive industry, developed within the ISO/IEC standards. It can help OEMs and Tier 1 suppliers comply beyond regulations (UN R155 and ISO/SAE 21434), while strengthening defense against future cybersecurity threats.
VicOne's CEO, Max Cheng, received the ASPICE CL2 certificate from Aaron Lee, Managing Director of DEKRA Taiwan at the certification awards ceremony on March 23 in Taipei.
Gerhard Rieger, Senior Vice President of DEKRA Global Functional Safety, stressed that "DEKRA and VicOne joined forces in automotive cybersecurity certification service programs in 2022. VicOne has successfully passed an ASPICE CL2 level certification, which shows their software systems apply to save and secure processes that are in line with the most advanced operating procedures and standards to evaluate process fulfillment regarding the ASPICE framework. DEKRA will further collaborate with VicOne on projects providing global customers with high-quality automotive cybersecurity counsel and solutions for optimal software management and control processes."

DEKRA's mission is to help steer transformation upgrades and sustainable development of the automotive industry. According to Daniel Lee, General Manager of DEKRA Taiwan Product Testing Operations: "ASPICE is widely recognized as a world-class testing and certification standard, and DEKRA strives to offer the service where clients in the automotive supply chain are able to enjoy integrated solutions, including ISO 26262/ IEC 61508 functional safety, ISO/SAE 21434 / SAE J3061 road vehicles – cybersecurity, ISO 27001 / TISAX standards for information security assessment and Automotive SPICE, a capability maturity model for software."

Dedicated to the cybersecurity of electric vehicles and the connected cars of today and in the future, VicOne is a subsidiary of Trend Micro, whose CEO, Eva Chen attended the DEKRA certification ceremony. In her speech, Eva commented, "TrendMicro has always encouraged our startups to demonstrate their expertise in their respective fields. V2X is an inevitable trend, and we are delighted to see VicOne leading the way and breaking new ground in vehicle-to-everything technology."
"With the increasing functions and applications adopted in V2X, a safer and more secure cockpit environment and driving experience is the common goal of OEMs and all vehicle suppliers," said VicOne CEO Max Cheng. "VicOne's excellent development and quality control capabilities in automotive electronics embedded software systems have long been affirmed by world-renowned car manufacturers(OEMs) and suppliers. Now that we have obtained ASPICE CL2 certification, our automotive cybersecurity solutions have been recognized to meet the most advanced operating procedures and standards."
About DEKRA
DEKRA has been active in the field of safety for almost 100 years. Founded in 1925 in Berlin as Deutscher Kraftfahrzeug-Überwachungs-Verein e.V., it is today one of the world's leading expert organizations. DEKRA SE is a subsidiary of DEKRA e.V. and manages the Group's operating business. In 2021, DEKRA generated sales totaling more than EUR 3.5 billion. The company currently employs almost 48,000 people in approximately 60 countries on all continents. With qualified and independent expert services, they work for safety on the road, at work and at home. These services range from vehicle inspection and expert appraisals to claims services, industrial and building inspections, safety consultancy, testing and certification of products and systems, as well as training courses and temporary work. The vision for the company's 100th birthday in 2025 is that DEKRA will be the global partner for a safe, secure and sustainable world. With a platinum rating from EcoVadis, DEKRA is now in the top one percent of sustainable businesses ranked.
About VicOne
With a vision to secure the vehicles of tomorrow, VicOne delivers a broad portfolio of cybersecurity software and services for the automotive industry. Purpose-built to address the rigorous needs of automotive manufacturers, VicOne solutions are designed to secure and scale with the specialized demands of the modern vehicle. As a Trend Micro subsidiary, VicOne is powered by a solid foundation in cybersecurity drawn from Trend Micro's 30+ years in the industry, delivering unparalleled automotive protection and deep security insights that enable our customers to build secure as well as smart vehicles. For more information, visit https://vicone.com.