On April 12, VicOne, DFI, and Automotive Research & Testing Center (ARTC) signed a memorandum of understanding (MOU) to jointly integrate embedded systems and vehicle-to-everything (V2X) technology, and to develop comprehensive information security measures for electric vehicles (EVs) and connected transportation to ensure that relevant equipment meets international standard safety certification.
This is the first collaboration VicOne has entered with ARTC, a research consortium established by Taiwan's Ministry of Economics and Ministry of Transportation and Communication. On the other hand, VicOne and DFI, a global provider of embedded motherboards and industrial computers, announced their expanded joint partnership to enhance automotive cybersecurity solutions in March.
Specifically, this three-way partnership involves the development of the WinBus autonomous shuttle. WinBus uses DFI's T-Box solution for in-vehicle communication control and is equipped with the VC900-M8M, a low-power and highly reliable vehicle system based on the ARM architecture. The vehicle-specific interface in the computer can connect with sensors to collect vehicle data. During this process, ARTC's compression and encryption algorithm technology is used for back-end remote dynamic analysis, and VicOne's in-vehicle cybersecurity software is employed to ensure protection of connected vehicles and equipment, and to identify and warn about abnormal data signals in real time.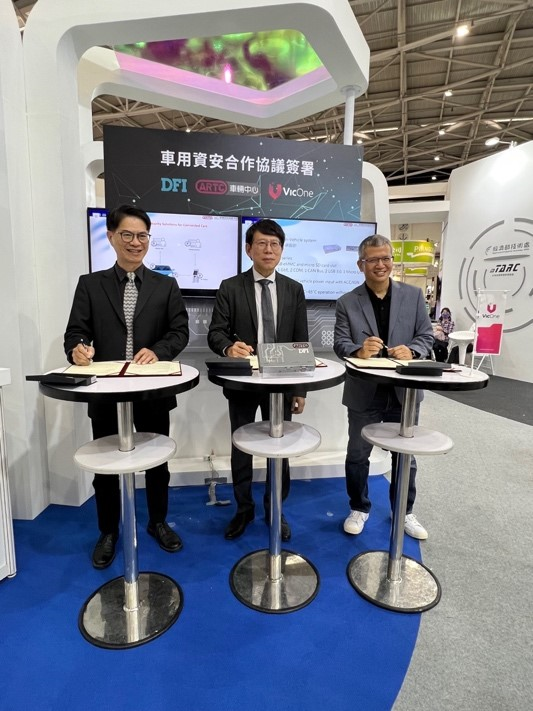 Figure 1. (From left to right) Alexander Su, president of DFI; Jerry Wang, president of ARTC; and Max Cheng, CEO of VicOne, signing the MOU at 2035 E-Mobility Taiwan.
The signing was done during 2035 E-Mobility Taiwan, which is being held alongside two other automotive industry exhibitions, Taipei AMPA and Autotronics Taipei, in Taiwan. This three-in-one event covers a wide range of topics, from the automotive ecosystem to after-sales services, with the aim of supporting Taiwanese companies enter the global automotive market.
Also at the event, VicOne demoed at the Hon Hai MIH space at AMPA how it brings protection to MIH's fleet management solutions. And at Clientron's booth at E-Mobility, VicOne demoed a cybersecurity-embedded in-vehicle infotainment (IVI) system that protects electric buses and commercial and passenger cars from cyberattacks through a secure smart cockpit solution.
VicOne's collaborative efforts and solutions align with the direction of development vehicle cockpits are taking. Vehicle cockpits are headed for further digitization, where more third-party apps will be available for IVI systems, technology will be developed toward creating personalized in-car experiences, and more vehicle owners will be using mobile phones to control car functions.
As cars become more advanced, their attack surface also becomes more expansive. The industry faces the risk of more sophisticated attacks. VicOne taps into a wealth of automotive threat intelligence to more accurately identify abnormal and harmful behaviors. With our reliable and efficient solutions, we are dedicated to addressing cyberthreats in the automotive industry, ensuring the security of connected vehicles.
Leveraging over 30 years of cybersecurity experience from Trend Micro and the expertise of more than 10,000 independent researchers from Zero Day Initiative, VicOne's automotive cybersecurity solutions use the latest technologies like behavior monitoring, machine learning, and detection and response to help automotive stakeholders secure connected cars and comply with regulatory requirements.
Learn more about our solutions by visiting our homepage.