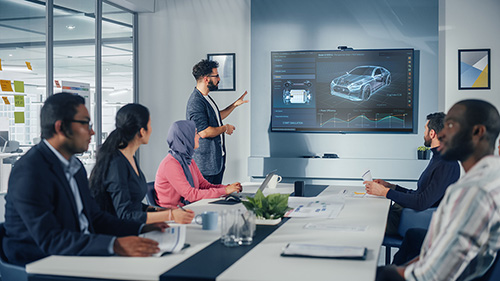 VicOne stands out in the Japanese automotive cybersecurity industry for its profound expertise, strong product expansion efforts, strategic partnerships, flexible pricing approach, highly skilled threat intelligence, and outstanding customer support teams.
San Antonio, TX, October 24, 2023 — Frost & Sullivan recently researched the Japanese automotive cybersecurity industry and, based on its findings, recognizes VicOne with the 2023 Competitive Strategy Leadership Award. VicOne, one of the automotive cybersecurity solutions leaders, that offers a comprehensive portfolio of cybersecurity software and services for original equipment manufacturers (OEMs) and Tier 1 suppliers. The company is a subsidiary of Trend Micro and leverages its parent company's expertise of over 30 years to gain a significant advantage over local competitors.
VicOne delivers unmatched automotive protection and in-depth security expertise, enabling customers to build safer and smarter vehicles. The company's highly customizable solutions allow customers to purchase the tools they require depending on their system complexity and their project's level of cybersecurity sophistication. Furthermore, VicOne's pricing strategy adapts to customer size, cybersecurity maturity, and the number of vehicles required for monitoring.
Today, VicOne continues to expand its broad product portfolio to meet the evolving cybersecurity demands of automotive stakeholders. For instance, VicOne launched its future-ready Smart Cockpit Protection in January 2023, acknowledging that smart cockpits will become the next frontier for automotive manufacturers. The company accurately foresaw that the industry was quickly moving towards adding cutting-edge features and connecting applications to vehicles through in-vehicle infotainment (IVI) systems. As a result, VicOne strengthened its dominant market position with innovative security tools to prevent hackers from exploiting these emerging systems of autonomous vehicles.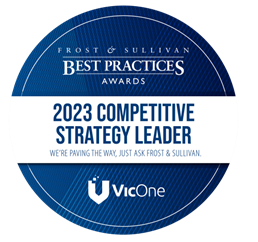 Figure: VicOne wins the 2023 Competitive Strategy Leadership Award from Frost & Sullivan for delivering a highly differentiated portfolio of cybersecurity software to the automotive industry
"We are thrilled to be honored by Frost & Sullivan with this award for our unparalleled expertise in cyberthreat intelligence to protect OEMs and the entire automotive supply chain," said Max Cheng, CEO of VicOne. "This recognition validates our commitment to the automotive industry in Japan and globally through our proven end-to-end security solutions for connected cars and software-defined vehicles."
"VicOne's Smart Cockpit Protection provides multi-layered cybersecurity features to protect IVI systems and applications. The solutions reflect VicOne's vision of securing the vehicles of tomorrow and aligning its product roadmap with ongoing technology strategies of automotive stakeholders, enabling the company to stay ahead," said Vivien Pua, senior industry analyst at Frost & Sullivan.
To further enhance its solid reputation and leadership, the company collaborates with Japan Automotive Information Sharing and Analysis Center (J-Auto-ISAC) to keep abreast of the latest trends in the automotive industry and maintain its unrivaled leadership. Moreover, the company collaborates with world-class automotive suppliers, including Panasonic Automotive Systems, Hitachi Astemo, and NXP Semiconductors. This helps the company to reinforce its competitiveness and bolsters its reputation and branding in the Japanese automotive cybersecurity industry.
"Despite being a recent industry entrant and a newly founded subsidiary under Trend Micro, VicOne demonstrates tremendous potential in forging strategic alliances and collaborative projects in the automotive cybersecurity industry," noted Pua. "With its strong overall performance, VicOne earns Frost & Sullivan's 2023 Competitive Strategy Leadership Award in the Japanese automotive cybersecurity industry."
Each year, Frost & Sullivan presents this award to the company that has leveraged competitive intelligence to successfully execute a strategy that results in stronger market share, competitive brand positioning, and customer satisfaction.
Frost & Sullivan Best Practices awards recognize companies in various regional and global markets for demonstrating outstanding achievement and superior performance in leadership, technological innovation, customer service, and strategic product development. Industry analysts compare market participants and measure performance through in-depth interviews, analyses, and extensive secondary research to identify best practices in the industry.
About Frost & Sullivan
For six decades, Frost & Sullivan has been world-renowned for its role in helping investors, corporate leaders, and governments navigate economic changes and identify disruptive technologies, Mega Trends, new business models, and companies to action, resulting in a continuous flow of growth opportunities to drive future success. Contact us: Start the discussion.
About VicOne
With a vision to secure the vehicles of tomorrow, VicOne delivers a broad portfolio of cybersecurity software and services for the automotive industry. Purpose-built to address the rigorous needs of automotive manufacturers, VicOne solutions are designed to secure and scale with the specialized demands of the modern vehicle. As a Trend Micro subsidiary, VicOne is powered by a solid foundation in cybersecurity drawn from Trend Micro's 30+ years in the industry, delivering unparalleled automotive protection and deep security insights that enable our customers to build secure as well as smart vehicles. For more information, visit https://vicone.com.