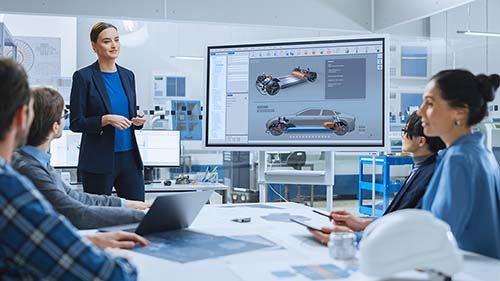 DALLAS & TAIPEI, Taiwan, March 30, 2023 – VicOne, an automotive cybersecurity solutions provider, announced today it has expanded its partnership with DFI, a global provider of embedded motherboards and industrial computers. This strategic alliance delivers enhanced industry-leading automotive cybersecurity software solutions and services for the rapidly growing electric vehicles and connected transportation market.
Various types of vehicles, traffic signals and infrastructure are constantly sharing large amounts of data through the internet. Together, VicOne and DFI are providing advanced embedded cybersecurity solutions for various applications to lay the foundation of fully interconnected transportation with smart cities environments. Their collaboration addresses the need to incorporate information security into transportation tools, fleet management and smart poles at the design stage.
"Partnering with VicOne to deliver industry-leading solutions for automotive manufacturing customers and smart city planners worldwide will allow us to provide the very best security design and technology integration to support the next generation of connected vehicles and build safe and secure smart cities," said Alexander Su, President of DFI.
"We are very pleased to expand our collaboration with DFI, as we both share a common vision for improving transportation in smart cities, and ensuring cellular vehicle-to-everything (C-V2X) technology is most effectively used to solve issues with traffic congestion, pedestrian safety, and smart transportation security," said Max Cheng, CEO for VicOne.
VicOne and DFI have frequently showcased their collaboration in live technology demonstrations of vehicle software security applications that enable more comprehensive network security protection for smart cities. Most recently they showed a C-V2X example of hackers using vulnerabilities of smart devices to hack into and affect a vehicle or the safety of people and vehicles. It highlighted VicOne's vehicle network security solution, which utilizes remote control of abnormal data signals and real-time warnings to help car manufacturers, fleet operators, and system suppliers establish a more powerful vision of information security defense, and prevent new types of over-the-air hacker invasions.
About DFI
Founded in 1981, DFI is among the top 3 IPC providers of high-performance computing technology across multiple embedded industries. DFI's industrial-grade solutions enable customers to optimize their equipment and ensure high reliability, long-term life cycle, and 24/7 durability in various markets, including Industrial Automation, Medical, Gaming, Transportation, Energy, Mission-Critical, and Retail. Find out more at https://www.dfi.com/.
About VicOne
With a vision to secure the vehicles of tomorrow, VicOne delivers a broad portfolio of cybersecurity software and services for the automotive industry. Purpose-built to address the rigorous needs of automotive manufacturers, VicOne solutions are designed to secure and scale with the specialized demands of the modern vehicle. As a Trend Micro subsidiary, VicOne is powered by a solid foundation in cybersecurity drawn from Trend Micro's 30+ years in the industry, delivering unparalleled automotive protection and deep security insights that enable our customers to build secure as well as smart vehicles. For more information, visit https://vicone.com.