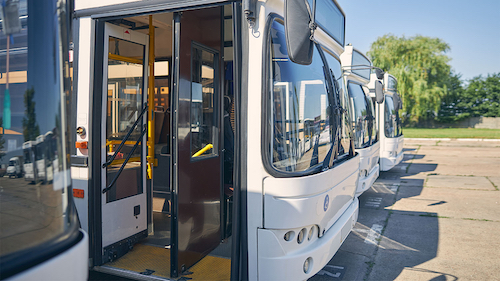 Solution Integrating VicOne Cybersecurity Software with Clientron's ECU Hardware Prevents Attacks on In-Vehicle Infotainment From Reaching Other Critical EV-Bus Systems
DALLAS & TAIPEI, Taiwan — VicOne, an automotive cybersecurity solutions leader, announced today a partnership with Clientron on an in-vehicle infotainment (IVI) solution with integrated cybersecurity for electric-vehicle (EV) buses.
VicOne's cybersecurity software is integrated with Clientron's electronic control unit (ECU) to prevent cyber-attacks by which an EV bus's IVI system is penetrated to manipulate vital systems such as brakes, acceleration and navigation—or even passengers' personally identifiable information (PII) via on-board internet connections. The integrated solution aligns with emerging automotive-industry compliance requirements, such as the ISO/SAE 21434.
"There are more and more EV buses on the road around the world, and not many have cybersecurity protection in IVI," said Edward Tsai, vice president of strategic partnership, VicOne. "Our work with Clientron has resulted in a fully functional IVI system with comprehensive cybersecurity that is easily integrated on EV buses. We look forward to bringing our combined capabilities to providers around the world."
Clientron, founded in 1983, is a leading automotive electronics manufacturer which provides highly integrated embedded solutions to clients worldwide. The company's IVI system delivers functions including audio and video entertainment, navigation, mobile-phone interconnection, vehicle data, safe driving and vehicle management. It provides a user-friendly and enjoyable driving experience through a communication network and multi-display system interaction.
VicOne's integrated cybersecurity software detects constantly evolving cyber-attacks and initiates countermeasures to avert or isolate and limit harm. The VicOne solution monitors IVI app performance, including power consumption and storage usage, to detect any abnormality. The EV-bus operator is alerted if an app consumes unnecessary resources or drains the battery excessively, ensuring smooth operation of the IVI system and maintaining driver, passenger and vehicle safety without unexpected interruptions or distractions.
"VicOne provides a top-of-the-line solution that our customers can trust for robust and future-ready cybersecurity coverage," said Kelly Wu, President & CEO, Clientron. "Integrating VicOne's capabilities translates into a tremendous value-add for our ECUs for the EV-bus industry. We are committed to producing user-friendly, secured, reliable and durable products for the automotive industry, and this partnership with VicOne bolsters our efforts."
About Clientron
Based in Taiwan, Clientron has been dedicated to the automotive industry on system integration services and has expertise in the technology of integrating the sub-systems that communicates with all the components and applications within an electric vehicle.
With integrated in-vehicle infotainment systems as the core, Clientron has been innovatively developing Advanced Driver Assistance Systems (ADAS), and the applications of Cellular Vehicle-to-Everything (C-V2X). We have helped manufacturers to build up the smart e-Cockpit of vehicles, which has won the favor of major automakers in many regions. In Clientron, the commitment to being the leading supplier to produce user-friendly, secure, reliable, and durable products in the auto industry has never changed. For more product information, please visit the Clientron website.
About VicOne
With a vision to secure the vehicles of tomorrow, VicOne delivers a broad portfolio of cybersecurity software and services for the automotive industry. Purpose-built to address the rigorous needs of automotive manufacturers, VicOne solutions are designed to secure and scale with the specialized demands of the modern vehicle. As a Trend Micro subsidiary, VicOne is powered by a solid foundation in cybersecurity drawn from Trend Micro's 30+ years in the industry, delivering unparalleled automotive protection and deep security insights that enable our customers to build secure as well as smart vehicles. For more information, visit the VicOne website.