Aiming for commercial provision for autonomous mobility services in 2025
TIER IV, Inc., Trend Micro Inc., and VicOne Inc. conducted a demonstration at GLP ALFALINK Sagamihara on December 23, 2022, on the design, implementation, and evaluation of cybersecurity solutions for automated driving in preparation for the full deployment of autonomous mobility services in 2025.
TIER IV leads the development of Autoware,1 the world's largest open-source autonomous driving software, and provides full-stack solutions for the commercialization of autonomous driving vehicles based on the Autoware-defined Autonomous Driving Kit (ADK), which runs on multiple platforms. In order for autonomous driving technology to contribute to solving social issues such as reducing traffic accidents and labor shortages, TIER IV has been developing it with many partners and has accumulated a track record of more than 100 demonstration tests in Japan and overseas. Autonomous driving requires compliance with ODD (Operational Design Domain) such as road sections, weather conditions, traffic conditions, vehicle speed, and driver status in each region and environment. TIER IV will meet the expectations of practical use by promoting the autonomous driving of various vehicles such as golf carts, taxi cars, and small EV buses.
Trend Micro has been committed to cybersecurity for more than 30 years since its founding with the vision of "aiming to make the world safer for exchanging digital information." In recent years, as the automotive industry has rapidly evolved and the demand for connected cars has increased, the need for cybersecurity to ensure safe and secure driving has grown along with the evolution of technology. Therefore, as a cybersecurity vendor, Trend Micro has applied the security and threat intelligence and technology it has developed through its research, analysis, and studies on the connected car space to ensure the security of cyber and physical systems. Trend Micro's goal is to protect its customers from the ever-changing landscape and increasingly complex and sophisticated cyber threats.
VicOne, a subsidiary of Trend Micro, specializes in automotive cybersecurity, leveraging Trend Micro's years of cybersecurity experience and knowledge with deep security insights and unique intelligence for the automotive industry. VicOne offers a broad portfolio of automotive cybersecurity software and services. It is engaged in various collaborations and demonstrations to develop and deliver solutions that ensure cybersecurity throughout the vehicle life cycle and facilitate compliance with cybersecurity regulations and standards.
Demo Details
The practical application of autonomous driving services requires compliance with UN R155.2 In preparation for the service launch, TIER IV designed, implemented, and evaluated security measures obtained through threat analysis and risk assessment using TARA (Threat Analysis and Risk Assessment)3 through the demonstration at GLP ALFALINK Sagamihara. In this demonstration, a simulated attack using vulnerabilities in open-source software (OSS) was conducted to show that vehicles are protected from attacks that exploit vulnerabilities and that operators can detect that an attack has occurred using xCarbon4 security software developed by Trend Micro and VicOne.
The findings are based on a project funded by the national research and development agency called the New Energy and Industrial Technology Development Organization (NEDO).
Each Company's Role
TIER IV: Implement Level 4 autonomous driving technology and service verification.
Trend Micro, VicOne: Implement xCarbon in ECUs of autonomous driving systems.
References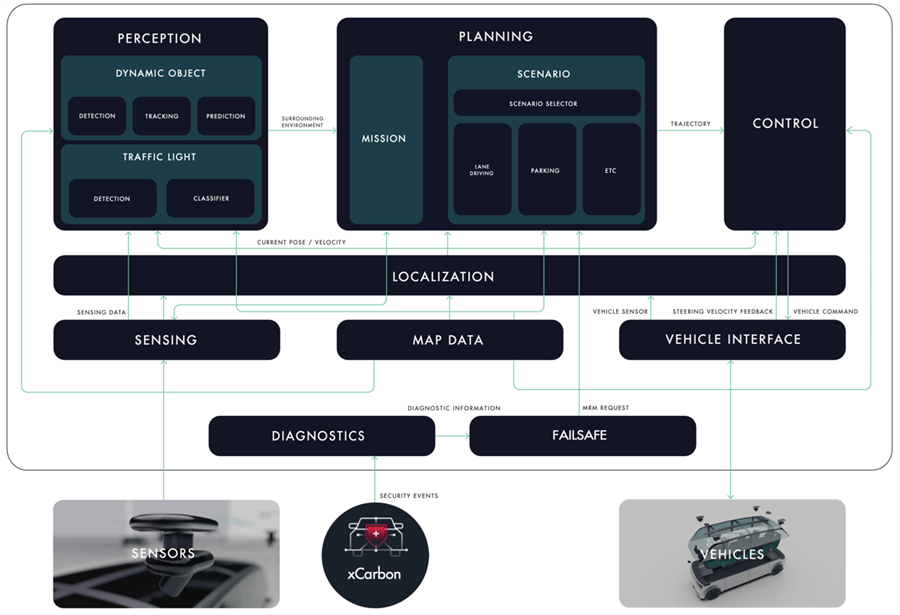 Diagram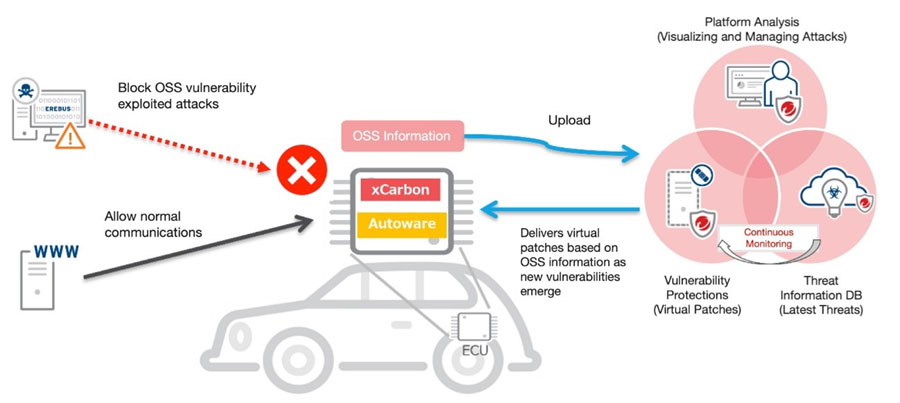 Images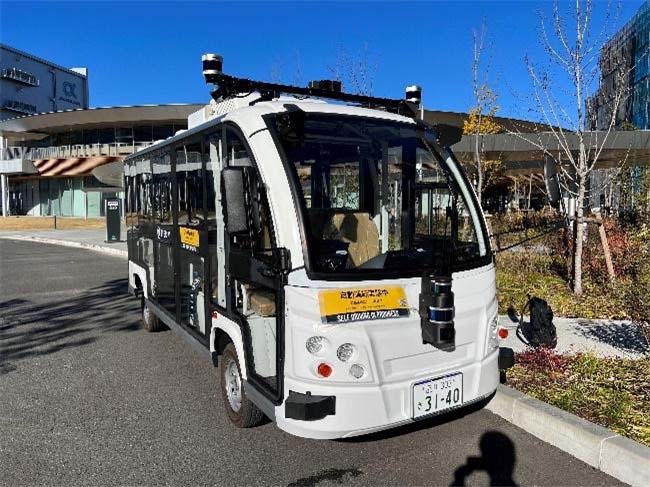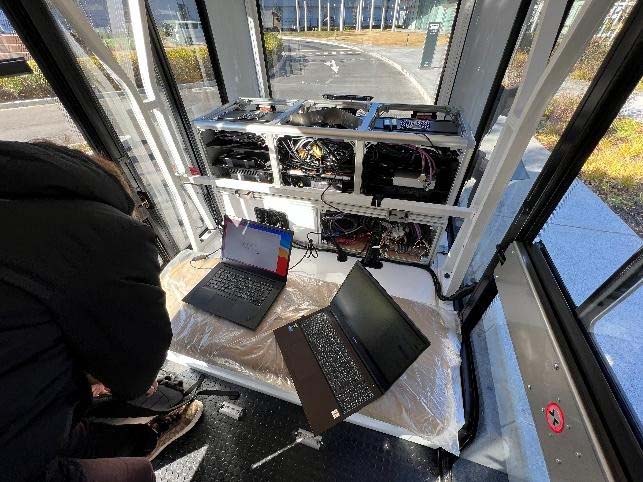 Left: Outside view of the vehicle
Right: Inside view of the vehicle
Next Plans
Based on this demonstration at GLP ALFALINK Sagamihara, the three companies will continue to work on safe autonomous driving services. Moreover, on the knowledge gained from the demonstration, the three companies aim to provide safe and secure Level 4 autonomous driving services to local governments and other customers working toward the practical application of autonomous driving by 2025.
This information was presented at the Trend Micro booth at the 15th Automotive World 2023,5 at Tokyo Big Sight from Wednesday, January 25, through Friday, January 27.
Notes
1 Autoware is a registered trademark of The Autoware Foundation.
2 UN Regulation No. 155 (UN R155) is a regulatory framework created by the World Forum for Harmonization of Vehicle Regulations (WP. 29), a working party within the Sustainable Transport Division of the United Nations Economic Commission for Europe (UNECE).
3 Threat Assessment and Remediation Analysis (TARA) is an engineering methodology used to identify and assess cyber vulnerabilities and select countermeasures effective at mitigating those vulnerabilities.
4 VicOne's embedded vehicle security software. It provides features such as external communication anomaly detection, threat detection and prevention, CAN anomaly detection, internal behavior, and process anomaly detection and prevention to protect target in-vehicle devices from security threats in a layered fashion.
5 The Automotive Exhibition: Trend Micro will be exhibiting and demonstrating its security products for automobiles at the Trend Micro booth in booth #48-7. https://www.nepconjapan.jp/tokyo/ja-jp/search/2023/directory/directory-details.org-5fdb8642-5554-48a6-937f-592f5612f00e.html#/
About TIER IV
TIER IV is the creator of Autoware, the world's first open-source software for autonomous driving, and provides full-stack solutions for the commercialization of intelligent vehicles based on the Autoware-defined Autonomous Driving Kit (ADK), which runs on multiple platforms. Autoware is currently used by hundreds of companies globally, with field operation tests run in about 20 countries and implemented with 30 different types of vehicles.
As a founding member of the Autoware Foundation, TIER IV is dedicated to providing open access to autonomous driving technology so that everyone, from individuals to organizations, can participate in and contribute to a sustainable ecosystem of intelligent vehicles and autonomous driving technology for the benefit of society. Learn more at https://tier4.jp/en/.
About Trend Micro
Trend Micro has been consistently engaged in the cyber security field for more than 30 years since its establishment with the vision of "creating a world where digital information can be exchanged securely. As a leader in cyber security, we contribute to the safety of society by continuously providing security solutions that respond quickly to constantly evolving digital technologies and markets. We also make security information obtained through our own research, analysis, and studies widely available to the public, and work with law enforcement agencies such as the FBI and Interpol, as well as international organizations, to promote the elimination of cyber crimes that lurk in society. Trend Micro will continue its efforts to realize a safe and secure society.
About VicOne
With a vision to secure the vehicles of tomorrow, VicOne delivers a broad portfolio of cybersecurity software and services for the automotive industry. Purpose-built to address the rigorous needs of automotive manufacturers, VicOne solutions are designed to secure and scale with the specialized demands of the modern vehicle. As a Trend Micro subsidiary, VicOne is powered by a solid foundation in cybersecurity drawn from Trend Micro's 30+ years in the industry, delivering unparalleled automotive protection and deep security insights that enable our customers to build secure as well as smart vehicles. For more information, visit https://vicone.com/