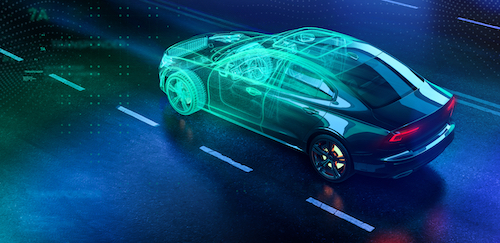 Combining NXP Vehicle Network Processor, Inventec Central Gateway and VicOne Software Dramatically Simplifies Cybersecurity Implementations for Automakers and Suppliers
SANTA CLARA, California — VicOne, an automotive cybersecurity solutions leader, announced today a collaboration with NXP® Semiconductors and Inventec that has led to an integrated, real-time cybersecurity solution for emerging software-defined vehicles (SDVs).
Powered by NXP's S32G vehicle network processor, Inventec's vehicle Central Gateway (CGW) is integrated with VicOne's cybersecurity software solutions. The built-in security delivers a turnkey solution that improves overall system compatibility and performance for automotive original equipment manufacturers (OEMs) and their suppliers, to promote scalability and streamline go-to-market activities. Plus, the integration aligns strongly with the automotive industry's emerging compliance requirements, such as the ISO/SAE 21434 standard for cybersecurity engineering.
By combining VicOne's automotive cybersecurity solutions with Inventec's Central Gateway based on NXP's S32G vehicle network processor, the end-to-end solution delivers crucial capabilities for combatting constantly evolving cyber threats:
Real-time deep-packet inspection (DPI) and detection of malicious traffic in vehicle networks
Analysis with comprehensive visibility for identifying threats and proactively searching for potential risks
Response via unique "virtual patching" for protection without code changes or firmware updates
VicOne will highlight the collaboration's solution at NXP Connects 2023, which continues through June 14 in Santa Clara, California. The event, for which VicOne is one of the sponsors, brings together more than 1,000 engineers for two days of NXP training, networking, solution demonstrations and presentations from industry leaders.
"The automakers and suppliers who rapidly evolve software can claim decisive competitive advantages, but the complex and interconnected nature of today's SDVs raises the importance of cybersecurity considerations," said Edward Tsai, vice president of strategic partnership, VicOne. "The integrated solution resulting from our partnership with NXP and Inventec enables the automotive industry to more simply and seamlessly implement robust capabilities from respected, established solutions providers and future-proof for emerging risks."
"Collaboration between companies to offer solutions leveraging complementary expertise and technologies is crucial to help accelerate the software-defined vehicle development," said Brian Carlson, global marketing director for vehicle control and networking solutions at NXP. "The Inventec Central Gateway leveraging the NXP S32G processor's powerful compute, networking and security capabilities, and integrated with VicOne's dynamic security software, offers an attractive solution to address ever-evolving, vehicle cybersecurity threats."
Added Sam Yeh, chief strategy officer and EVP of Inventec: "Our collaboration with NXP and VicOne creates a complete picture of proven electronics with well-integrated security—one that can meet the current and future protection needs of the world's automotive OEMs and suppliers. This first solution resulting from our partnership promises a safer and more secure driving experience for all."
About VicOne
With a vision to secure the vehicles of tomorrow, VicOne delivers a broad portfolio of cybersecurity software and services for the automotive industry. Purpose-built to address the rigorous needs of automotive manufacturers, VicOne solutions are designed to secure and scale with the specialized demands of the modern vehicle. As a Trend Micro subsidiary, VicOne is powered by a solid foundation in cybersecurity drawn from Trend Micro's 30+ years in the industry, delivering unparalleled automotive protection and deep security insights that enable our customers to build secure as well as smart vehicles. For more information, visit vicone.com.